LIFEBOATS, RESCUE BOATS & LAUNCHING APPLIANCES SERVICES
Baruna Indo Nusa team of qualified and experienced personnel provide annual and 5 yearly inspection and maintenance services at short notice, 24/7, in accordance to IMO MSC 402 (96). Our service stations also possess necessary equipment to conduct load tests and on-voyage repairs.
Class Survey
Our service engineer conducting an on-board lifeboat launching training during an annual inspection
Load Test
Free-fall lifeboat davit load test using water bags after five yearly service
Winch Break Inspection
Our service engineer inspecting release handle during the winch brake inspection
Sprinkler Test
Sprinkler test carried out after annual inspection for tanker model lifeboats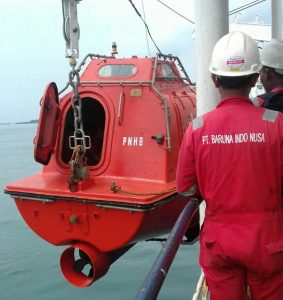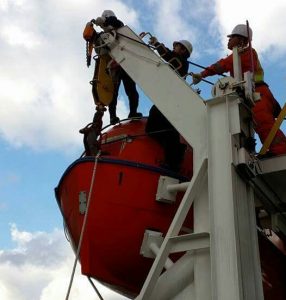 REFURBISHMENT
Our advanced service stations and repair facilities are well equipped to carry out complete servicing, overhaul, and repair of Engine and Sprinkler Systems, FRP Hull & Body, Release Gear, Davit and Winch, Fall Wire renewal, and Hydrostatic testing and refilling of compressed air systems. We also offer replacement equipment for hire during the overhaul stage, subject to availability.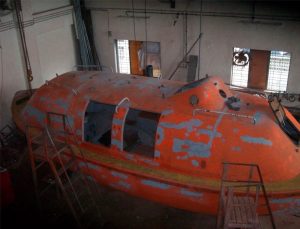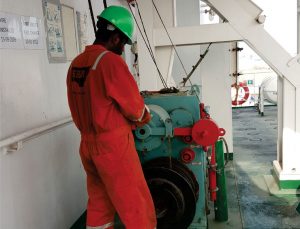 Service Facility
Our service engineers and technicians working on different sections of the lifeboat during the five yearly service
Engine Overhaul
Our in-house engine experts conduct complete engine overhauls and refurbishment during the five yearly service.
Lifeboat Exterior Repair
We have in-house capabilities to lifeboat exterior fittings such as handles, hatch covers, etc.
Release Hook Servicing
With the new IMO regulation MSC.1391/Circ.1 all non compliant hook systems need to be replaced in the first
Repairs
We have the capability of renovating and repairing all exterior and interior sections of the lifeboat. We also offer similar services for davits and winches.
RIGID & INFLATABLE RESCUE BOAT SERVICING
In accordance to IMO MSC 402 (96), all rigid and inflatable rescue boats also are to be subjected to the annual and 5-yearly inspection and maintenance routines as described before.
An additional pressure test of the buoyancy chamber of the inflatable rescue boat is required as per manufacturer's guidelines.
Single Arm Davit Winch Inspection
Our service engineer servicing a rescue boat slewing davit during an annual inspection
Dynamic Winch Break Test
Winch brake being dynamically tested by lowering the rescue boat to ensure the equipment is serviced properly

Release Hook Inspection
Our service engineer inspecting a rescue boat release hook during an annual inspection. These hooks are usually required to be overhauled by the manufacturer during the five yearly routine.
Rescue Boat Launch Test
Iflatable rescue boats need to be launch tested after the annual inspection to ensure the lifting slings, connector points, and release hook are all in satisfactory working condition.

Pressure Test at Service Station
Our team conducting a periodic inflation and pressure test of a rescue boat at service station.