LIFE RAFT SERVICING
Our company is approved by all the major international Classification Societies to inspect, service and repair inflatable liferafts. Our facilities in Batam and Bengkulu are approved by most of the major liferaft manufacturers.
SOLAS Regulation III/ 20.8 requires every inflatable liferaft to be serviced at an interval not exceeding 12 months. In case this annual service impracticable. The Administration may extend this period to 17 months. SOLAS also mandates that liferafts should be serviced at approved service stations which maintain proper infrastructure and use properly trained personnel.
Life raft Inflation and Pressure Test
Our service team conducting necessary valve pressure checks after inflating the life raft at the service station
Service as per manufacturer's guidelines
At our service stations, service and repair work are carried out only by qualified persons who have been trained and certified by liferaft manufacturers.
Life raft Container Repairs and Painting
Our FRP experts can repair most damages on liferaft containers at short notice and with quick turnaround time.
Life raft Suspension Test
Our technicians conducting an overload suspension test on a davit-launched liferaft during its periodic servicing, as per manufacturer's guidelines.
Life raft Storage
Our technicians placing liferafts on storage racks after they've been serviced and are ready to be transported back to the vessel.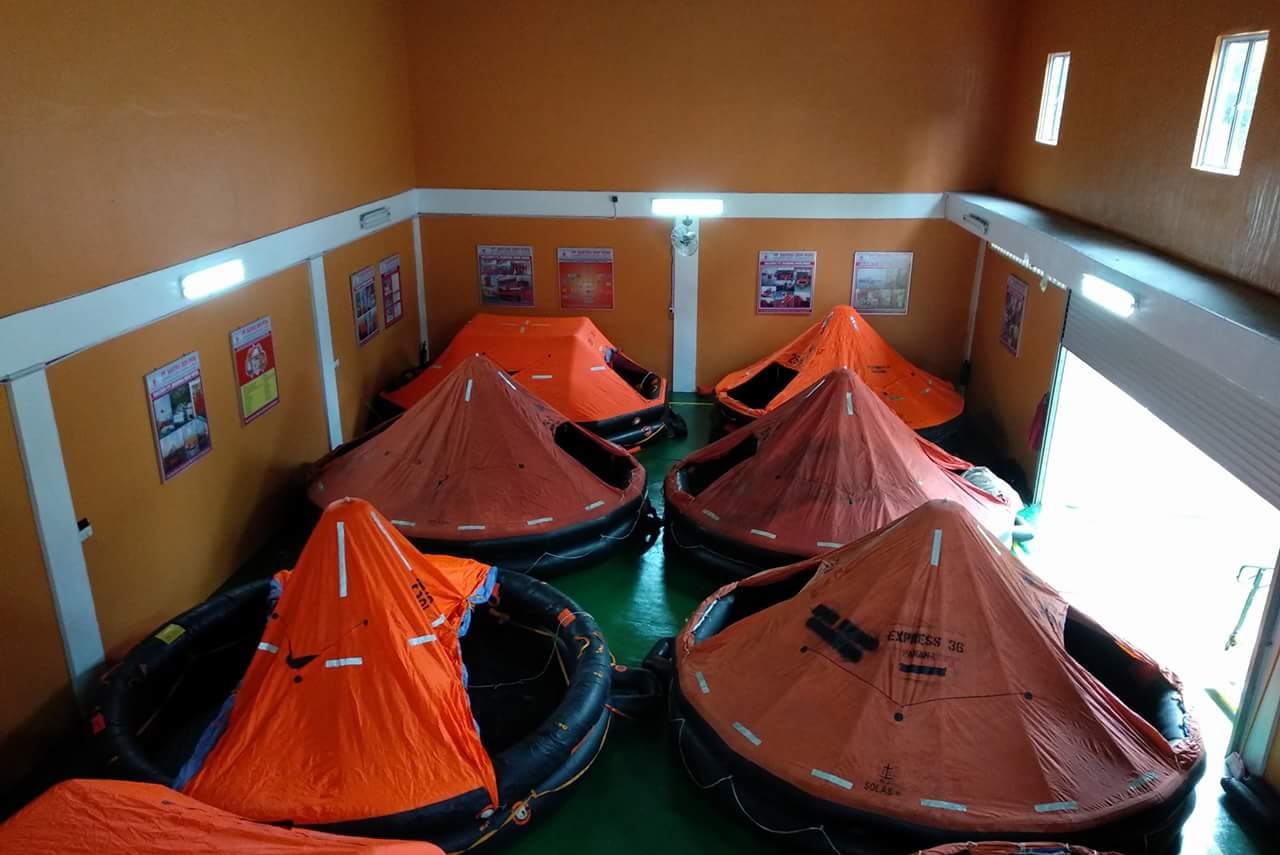 Quality service with attention to detail
SERVICE
Container is opened and the inflation system dismounted
Liferaft is removed from the container
Container shell is cleaned and fibreglass is repaired if needed
Container is relabelled
Liferaft is inspected inside and out
Emergency pack is checked and items replaced if expired according to regulations
Liferaft equipment is inspected and replaced if needed
Cylinder operating head, valve, knife and release wire is inspected
Inflation system and high pressure hoses are inspected
CO2 cylinder is checked for correct content level
Liferaft is deflated, repacked in the container and prepared for despatch
TESTING
Liferaft is inflated with compressed air and pressure tested including a 60 min.
working pressure test of the lower buoyancy chamber, upper buoyancy chamber and arch chamber
If the liferaft is equipped with an inflatable floor, this is pressure tested for 60 min
Liferaft is subjected to specific tests at various intervals according to international regulations.
Gas inflation stress test (GI) is conducted every 5 years using the liferaft's own CO2 cylinder to inflate the liferaft
Necessary additional pressure test (NAP) at double the working pressure rate is conducted at 11 years end then annually thereafter
Floor seam test (FS) is performed to check the seams of the internal floor and is conducted at 10 years and then annually